【mirin】Cyan Reishi Scalp Revitalizer
When I was working as a flight attendant on duty to Taiwan, I was always going on heavy shopping sprees at Sheng Yuan Herbs for their herbal personal care products which I have introduced many times before. Recently Sheng Yuan Herbs released a new scalp care product called Cyan Reishi Scalp Revitalizer🌿 This product incorporates rare and precious herbal ingredients which can prevent issues of hair thinning or hair loss as well as improve scalp health. It's absolutely beneficial to start scalp care as early as possible! I highly recommend Cyan Reishi Scalp Revitalizer because Sheng Yuan Herbs' great track record on their herbal products. ✨
It's straightforward to use as I use this product daily. You can just spray this on the scalp and massage the scalp afterwards.
I used to fly to Taiwan very frequently and Taiwan is like my 2nd home. Lol
When the Covid restrictions are lifted I would definitely visit Sheng Yuan Herbs again in person. 🥰
Cyan Reishi Scalp Revitalizer
◆ Rare and precious herbal ingredient "Reishi GMI"
-> Prevent hair thinning, especially for hair loss postpartum
-> Recommended for those who want to increase thickness and volume to the hair
◆ First scalp care/hair tonic product with Reishi ingredients from Taiwan
◆ All natural ingredients, non-toxic without any side effects
-> High-quality Chinese medicine pharmacy with long history. Highly recommended for people who want to improve scalp health. Sheng Yuan Herbs is a popular Chinese medicine pharmacy which was featured in magazines like RURUBU!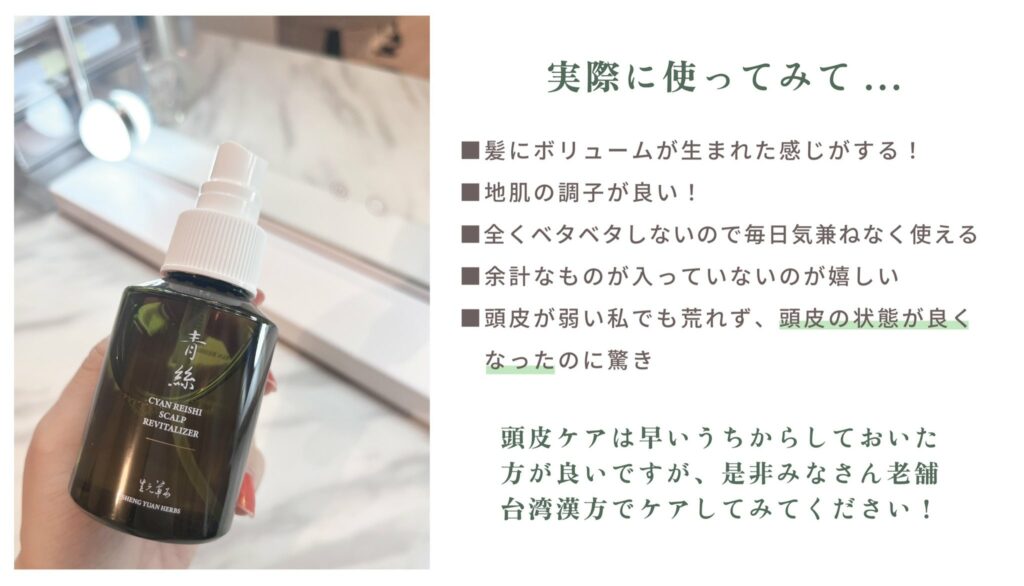 After use:
◆ I feel like the volume of my hair has increased!
◆ My lousy scalp condition feels refreshing and my scalp skin feels much improved.
◆ I look forward to using it every day since you don't feel the tackiness when spraying the solution on the scalp
◆ No harmful additives.
It's absolutely beneficial to start scalp care as early as possible! For those who want to get started should definitely give Cyan Reishi Scalp Revitalizer try!
Cyan Reishi Scalp Revitalizer